Overview
Long ago, these Mediterranean islands and ports were the landing places for an endless tide of invaders from far off lands. From ancient Phoenisia, Persia, the Peloponnesus, Imperial Rome and Constantinople they came. Followed by waives of European Crusader knights, Genoan mariners, Venetian merchants and turbaned Turkish troops of the Ottoman Empire. They stormed ashore to conquer, only to be vanquished by time and absorbed into the dry volcanic earth. All that remains are their stone ruins, ghostly shapes wrapped in myth and mystery. Today the sun-spangled seas bordered by Greece, Turkey, Italy, Croatia and the Dalmatian Coasts are inviting playgrounds for pleasure seekers. Join us as we explore a yachtsman's paradise on forgotten islands where white-washed sands invite sun worshipers to bask under Helios' gaze, or fortress-like rocks where ancient monasteries cling like mountain climbers on towering cliffs. Or stand where battling armies fought hand-to-hand in Troy and Gallipoli. Walk through iron doors of medieval Kastros where tales of pagan rites and knightly rituals are told. Inhale the balm of almond and lemon at the place where Hippocrates taught his healing arts. The Dodecanese, the Cyclades, the Sporades, the Dardanelles Islands and places that fairly sing on the tongue. And no one knows these favoured lands and seas as well as Star Clippers. Please Note: 28 April 2019 departure is 7 Days long.
Departures
Cruise Itinerary
Walking in the shadow of the Acropolis in the Agora, you can almost hear the voices of Plato, Socrates and Aristotle arguing about who was the greatest philosopher. Ancient Athens, the birthplace of democracy and epicenter of western civilization, is a city for all eternity.
---
Hydra is a town of stately mansions all built around 1800 by blockade runners who had made fortunes outwitting the British during the Napoleonic Wars. As there are no cars, for the spectacular view from the Monastery of Ilias you'll have to ride a donkey to the top.
---
From the shore, it's a big rock sticking out into the sea. Then you pass over the causeway, and through an iron fortress gate, and suddenly, the town of Monemvasia is before you, a perfectly preserved Byzantine fortified port, once 60,000 strong, now home to just a few hundred. You can readily see why the name Monemvasia means single entrance! In the rocky hills above, ancient Byzantine ruins loom over the town, while below a maze of red tiled roofs and twisting alleys hide tavernas and cafes and the home of revered Greek poet Yannis Ritsos.
---
Homer's "Wise King Nestor" was very wise indeed to build his magnificent palace near Pilos. For the city's harbour of Navarino Bay and the land-locked lake that was the original harbour were a perfect refuge from storms – and invaders. And it was at this site on October 20, 1827, with the help of Britain, Russia and France, that modern Greece attained independence, defeating the Turkish navy in the Battle of Navarino Bay.
---
Syracuse is a city on the Ionian coast of Sicily that's known for its ancient ruins. It was once the largest city in the world, bigger than Athens and Corinth and as you can imagine it's steeped in history. Visit Parco Archeologico della Neapolis, one of Sicily's greatest archaeological sites. Relax in one of it's stylish little cafes that surround it's beautiful baroque piazzas before wandering down it's medieval lanes towards the sparkling blue sea.
---
The charm of Malta's sister island Gozo is immediately apparent Steeped in myth Gozo is thought to be the legendary Calypso's isle of Homer's Odyssey. It's green, rural and calm relying on fishing and agriculture as well as tourism. It is one of the Mediterranean's top diving destinations with an incredible range of shore and boat dives including reefs, caves and wrecks. There are also Knight's watchtowers, tiny chapels and beautiful peaceful beaches to explore.
---
Valletta is the tiny capital of the island of Malta. The walled city was established in the 1500s on a peninsula by the Knights of St. John, a Roman Catholic order. It has a rich historical past and is a European Art City and a World Heritage City. It's has an abundance of museums, palaces and grand churches to visit but be sure not to miss out on exploring one of it's beautiful gardens.
---
Itineraries are subject to change.
---
Star Flyer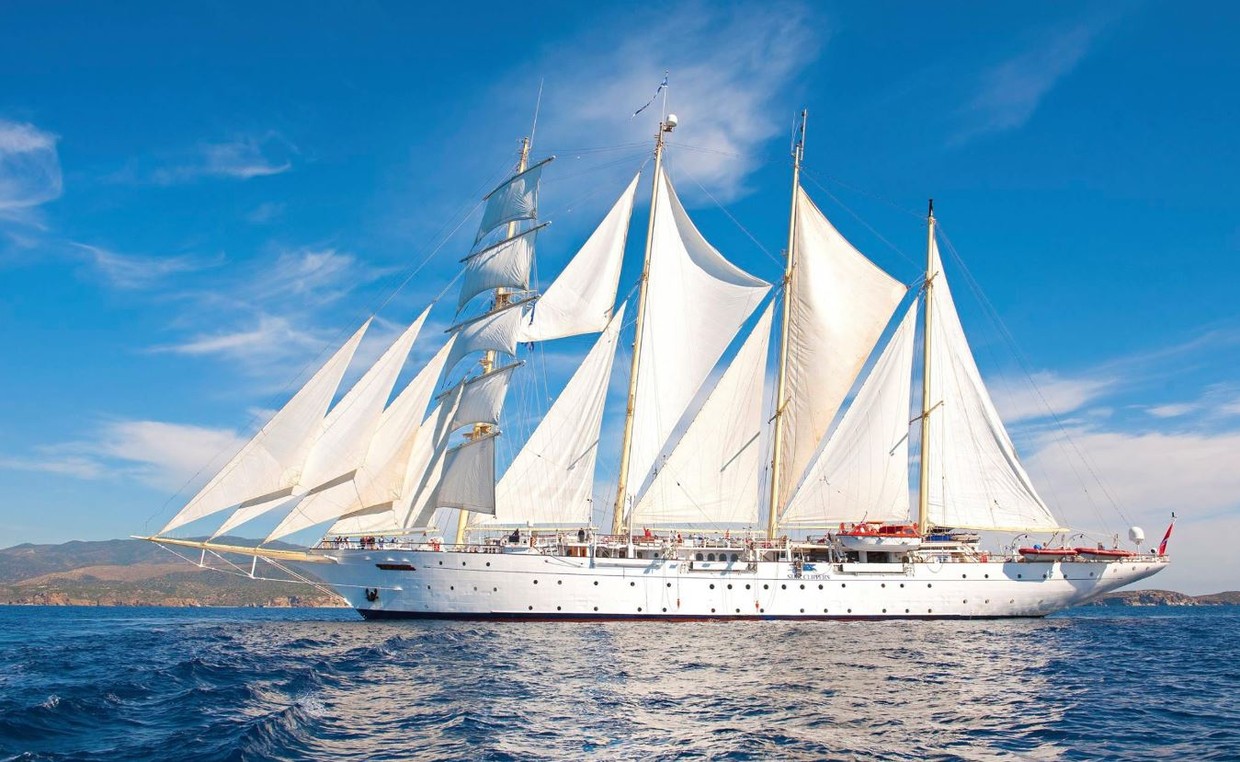 Vessel Type: Tall Ship Length: 109.7 m Passenger Capacity: 170 Star Flyer is a true clipper ship reflecting it's proud heritage in every inch of her polished brass and gleaming brightwork. Step aboard this unique vessel and discover a new age of sail, where the traditions of the past are happily married to the comforts and amenities of the present day. Star Flyer is a modern cruise ship in every way, created for luxury-loving passengers who also love the traditions and romance of the legendary era of sailing ships. Star Flyer is 360 feet long and carries just 170 guests in pampered comfort. Life aboard is blissfully relaxed, much like traveling on a private yacht. You'll never feel confined on Star Flyer. Ship offers spacious accommodations and expansive teak decks with ample space and not one, but two swimming pools. In fact, you'll find that this ship offers more outdoor space per passenger than most conventional cruise ships. The décor of Star Flyer is reminiscent of the grand age of sail. Antique prints and paintings of famous sailing ships please the eye, while teak and gleaming mahogany rails are richly reminiscent of Star Clippers' proud nautical heritage. All Star Clippers ships feature open-seating dining in an elegantly appointed dining room, our convivial indoor-outdoor Tropical Bar and Piano Bar, and an Edwardian style library where a Belle Époque fireplace glows with a warmth that reflects the friendliness and enthusiasm of Star Clippers' hospitable officers and crew.
Highlights
• The Historic Center at Noto, Syracuse • Discover Hydra - a town of stately mansions all built around 1800
No Departures date available. Please contact us at travel@wildiaries.com for more information.