Overview
Unique, immersive style of travel While there are many ways to travel the Caribbean, you'll find that exploring aboard an authentic square-rigger tall ship offers an unrivaled experience and guarantees you an in-depth encounter with all its wonders. Discover the romance of tall ship sailing Experience something many people don't know exists in the 21st century—the thrill of life under sail—in the region of the world where sailing is best. With the reliable trade winds filling Sea Cloud's sails, you'll have ample opportunities to stand on deck and watch the orchestrated frenzy of 16 of the crew members going aloft in the web of riggings to handset 30 sails. See what it's like. Experience the cultures and wildlife of the region You'll be able to snorkel or swim in the warm Caribbean waters nearly every day, explore tropical reefs and an undersea garden in the marine reserve of Tobago Cay. Enter island capitals born in the golden age of sail. Stroll waterfront towns where the patois reflects the mosaic of cultures in these islands. Hike a jungle trail in search of parrots, or enjoy a palm-studded beach. Each island offers a unique rhythm, and your expedition can be as active or relaxing as you choose. Travel in excellent company Explore under the sure guidance of a veteran expedition leader, a historian, and a naturalist who will also serve as your National Geographic certified photo instructor. Their knowledge and passion for the Caribbean is the key to your once-in-a-lifetime experience.
Departures
Cruise Itinerary
Embark Sea Cloud in Barbados in the late afternoon as we begin our voyage in the Caribbean. (D)
---
We have the day to enjoy one of the great pleasures of travel anywhere: sailing aboard our authentic barque, seeing the crew go aloft unfurling the sails the traditional way—by hand—as we ride the trade winds. Watch as the crew climbs the rigging and trims the Sea Cloud's 32,000 square feet of canvas, and follow the action with sail plan in hand. This is surely one of the best ways possible to learn about the art and science of sailing, and a wonderful opportunity to enjoy the many amenities of this historic tall ship. (B,L,D)
---
Dominica is called the "Nature Island" because of its beauty and many reserves. We dock at historic Prince Rupert Bay, where sailing ships of all flags put in for water, citrus fruits, and solid timber after a long Atlantic crossing. In the morning, we drive through a succession of tropical ecosystems and fruit plantations into the Morne Diablotin National Park and rain forest. The spectacular canopy trees with their buttress roots and liana vines are home to Dominica's two endemic parrots, which we hope to see or hear on our rain forest hike. After lunch, join our historian for a walk up to beautifully restored Fort Shirley, where English cannons protected the strategic bay below. We'll also have our first opportunity to snorkel in the warm, clear Caribbean waters. (B,L,D)
---
Distinctly French in character and culture, the shops, homes and people of Les Saintes are colorful, tasteful and delightful. Enjoy picture-postcard views from Fort Napoléon, with its cactus garden, iguanas and maritime museum. Then stroll through French colonial Terre-de-Haut and swim and snorkel from a nearby sandy beach. In the afternoon, we set sails in the Guadeloupe Channel for a short but powerful downwind reach, as the winds fill the square sails in a glorious spectacle. (B,L,D)
---
In the morning, we sail aboard our magnificent ship, and in the afternoon, we visit Bequia. With a historical mix of Scottish indentured servants, buccaneers, whalers and mariners, Bequia has a maritime culture unlike any other. Scrimshaw and model-boat building endure in this long-time sailors' watering hole. We'll get to know the local Bequians on a short drive around the island in covered pick-up trucks, stopping at a view with gorgeous overlooks and at a very interesting local hawksbill turtle revival initiative. In Port Elizabeth, we'll find local crafts, the Rastafarian fruit and vegetable market, elegant Belmont Walk, and one of the best bookstores in the West Indies. A good swim, snorkel, and tropical beach are a short walk or Zodiac ride away, near the local beach bar. (B,L,D)
---
In the morning, we enjoy a rousing sail through the idyllic Grenadines, passing Mustique, Canouan, Tobago Cay, Mayreau and Union Islands. We'll then anchor in one of the lovely white-sand arcing beaches that are the quintessential image of a Caribbean bay, with protected waters for easy swimming and snorkeling, and a few local beach bars with colorful Caribbean names and characters completing the scene. (B,L,D)
---
Anchor under the iconic twin peaks of St. Lucia, called "Les Pitons," the iconic image of the famed Windward Islands. We'll stop beneath Petit Piton at the port of Soufrière, whose name derives from the active sulfur pools indicative of ongoing volcanism. We'll explore the active crater and the geologic origins of Les Pitons, before taking a delightful walk through the local botanical gardens. Fed by mineral-rich hot spring runoff, the gardens are a gallery of tropical blooms and color, alive with hummingbirds, bullfinches and the backdrop rush of Diamond Falls. We then spend the afternoon sailing as we return to Barbados. (B,L,D)
---
Disembark the Sea Cloud in Bridgetown, Barbados. We'll drive to the north along the west coast and through Holetown, site of the first settlement in 1627. We'll stop at the St. James Parish Church, the oldest Anglican Church in Barbados, and continue our drive through Speightstown to St. Nicholas Abbey. Built in 1660, St. Nicholas Abbey is not a church but one of only three genuine Jacobean mansions in the Western Hemisphere. It was recently refurbished, and the distinguishing features of this magnificent, well-preserved mansion include curved Dutch gables, chimney stack and coral stone finials, a Chinese Chippendale staircase and fine antiques. Our last stop before Bridgetown Airport for departure flights is Bathsheba, with spectacular views of the rugged East Coast Hills on one side and the pounding Atlantic surf on the other. We'll stop at one of the parks nearby for a picnic lunch before continuing to the airport for flights home. (B,L)
---
All day-by-day breakdowns are a sampling of the places we intend to visit, conditions permitting.
---
Sea Cloud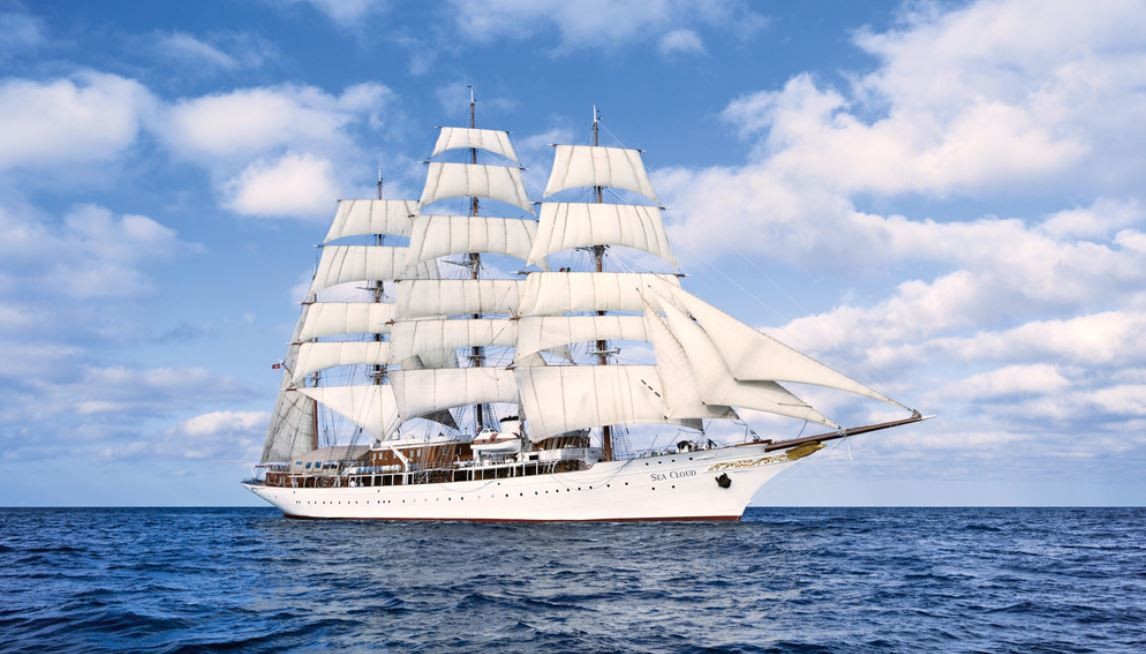 Vessel Type: Tall Ship (Sailing) Length: 109 metres Passenger Capacity: 64 Built / refurbished: 1931 / 2011 Sea Cloud is a ship with a soul, imbued by the original owners, Marjorie Merriweather Post and her husband E.F. Hutton in the 1930's. The ship has played host to royalty, known service in wartime, and sailed the world over. She is a vessel of incomparable grace that harks back to the golden age of ship travel. Once you've been on Sea Cloud under full sail, you'll begin your own love affair. Welcome aboard a legend Sea Cloud accommodates 58 guests in 28 outside cabins including two original owner's suites that still feature original marble baths and fireplaces. At 360 feet she is an expansive ship with extensive public spaces on the top deck, where we luxuriate in deck chairs and watch the crew of 18 go aloft in the web of riggings to hand-set her 30 sails. Her dining room is hung with marine oil paintings of the period and accommodates all guests at once for a single seating. We'll gather in the lounge each evening for Recap. Life aboard is a uniquely pleasing mix of elegance and informality—a return to the golden age of sailing in shorts and deck shoes. You'll find all shipboard services impeccable. Discover the romance of tall ship sailingExperience something many people don't know exists in the 21st century—the romance of life under square sails. Discover the thrill of standing on deck as Sea Cloud gently glides through the water, her crew aloft in the riggings, running out and reefing sails. Settle in to your favorite areas on the top deck and bask in the incomparable experience of traveling aboard the finest tall ship to ever sail the seas. Lose yourself in an adventure that, in this day and age, is almost unimaginable. Please note deck and suite plans are indicative only and may vary slightly.
Highlights
• Experience the power of sailing aboard a four-masted, 30-sail tall ship • Sail into smaller, lesser-known ports and anchorages of the "old Caribbean" • Explore the islands' wildlife, cultures, and the undersea, too • Enjoy the relaxed pace of Caribbean life and traveling by private sailing yacht
Specials