Overview
Remote and largely inaccessible, Patagonia is the essence of wildness—a maze of channels and islands. Venture deep into Chile's glorious fjords past incandescent icebergs and massive glaciers. From the "land of fire," Tierra del Fuego, to the jagged spires of Torres del Paine National Park, experience Patagonia at close range aboard National Geographic Explorer. And, thanks to our special access, we'll enjoy the privilege of visiting the far-off, stunningly beautiful natural parklands of Karukinka and Yendegaia. We'll also visit the 'brand-name' adventurous destinations of Torres del Paine and Cape Horn. And we'll be privileged to be one of the only expedition ships ever allowed to visit Argentina's remote, wild Isla de los Estados. Explore Patagonia's wildest regions The wilderness of Patagonia is near mythic, nowhere more so than the newest and largest protected area: Karukinka Natural Park. We're thrilled to have special permission from the Wildlife Conservation Society to visit this reserve, which spans 1,160 square miles and harbors endangered culpeo fox and Andean condors. Discover seldom-visited Isla de los Estados off Argentina By special permission, National Geographic Explorer will call at Isla de los Estados, a wild island largely untouched by humans in decades, it has only a naval outpost with four guardians. Walk its wild beech forests, look for penguins, see the 1884 San Juan de Salvamento "lighthouse at the end of the world," which inspired Jules Verne's novel by the same name, plus explore the ruins of a penal colony. And, conditions permitting, explore a very rarely seen archeological site where native people lived 1,500 years ago. Incredible mountainscapes, fjords, glaciers, and islands From the razor-backed ridges of the sprawling Torres del Paine National Park to Pio XI, the longest glacier in the southern hemisphere outside of Antarctica, Patagonia is a land of superlatives. This vast area of snowcapped mountains, gigantic glaciers, thousands of islands covered with vegetation, lakes, soaring granite walls, and waterfalls, and archipelago provides days of spectacular adventure. Explore the towering fjords by Zodiac and kayak; hike to the terminus of massive glaciers; walk the spongy, vegetation-covered ground surrounded by the immensity of a wild pristine landscape. Rare wildlife and the undersea, too On Chile's Chiloé Island, hike through the unusual, ancient alerce forest of massive trees, some 2,000 years old, similar in dimension to California redwoods. Search for the endangered culpeo fox and Andean condors. See albatrosses, grebes, petrels, fulmars, shearwaters, and more. And on Isla de Los Estados, walk among colonies of southern rockhopper and Magellanic penguins, plus see large groups of fur seals and sea lions. And in the Chilean fjords, Explorer's on board undersea specialist will deploy an ROV to shoot video of an undersea few humans have ever seen. Each day is active and engaging You'll get out on adventures often in Patagonia, sometimes twice a day—to walk or hike, kayak, or Zodiac cruise through the fjords and alongside towering glaciers. Because Explorer has a fleet of both Zodiacs and kayaks, the entire expedition community can embark at once on forays, no waiting around for returning parties. You'll have a choice of activities each day, and the option to join any naturalist whose interests mirror yours. Choice also includes opting to enjoy the view from the all-glass observation lounge, the library, or the chart room. To visit the fitness center with its panoramic windows, or ease into the sauna, or have a massage in the wellness center. Take advantage of superb photo ops You'll have a National Geographic photographer as your traveling companion, to inspire you and provide tips in the field. And the services of a National Geographic certified photo instructor, as well—to help you turn your point-and-shoot camera into an aim & create. You'll find no end of subjects, and the help you need to return home with your best photos ever. Travel in excellent company Explore under the sure guidance of an expedition leader, an assistant expedition leader, eight veteran naturalists, a National Geographic photographer plus a National Geographic certified photo instructor, an undersea specialist, a Global Perspectives guest speaker, a wellness specialist and a video chronicler. Their knowledge and passion for Patagonia is the key to your once-in-a-lifetime experience.
Departures
Cruise Itinerary
Arrive in Santiago, Chile. We check in to the Hyatt Regency, centrally located in Santiago, and have the morning to relax. Santiago is nearly surrounded by the Andes, which form an inspiring backdrop to our afternoon guided overview of this vibrant city. We explore the Plaza de Armas, the main square, and nearby Presidential Palace, enjoying wonderful views from the many hills that dot the city. (D)
---
Today we fly from Santiago to Puerto Montt, Chile's northern gateway to Patagonia. Time permitting, we'll explore the city and its environs before embarking National Geographic Explorer.
---
We spend the day exploring Chiloé's culture and natural history, seeing its attractive palafitos, colorful fishermen's houses precariously built on stilts along the water's edge. The town is full of little shops and a large open-air market where the Chileans show their indigenous wares, such as alpaca sweaters and lapis jewelry. You may choose to visit Chiloé National Park to see its forests, wetlands and wildlife, with a selection of longer or shorter walks. Magnificent alerce trees here may grow to over 200 feet tall. Alternatively, visit some of the welcoming small communities that dot the countryside and learn about a unique way of life. One of the unique features of the island's history and culture is its wooden churches, collectively designated a UNESCO World Heritage site. The churches and many of the houses are covered in a protective shell of wooden shingles in artistic designs. (B,L,D)
---
Pumalín's 750,000 acres in Chilean Patagonia are protected as one of the last areas where the unusual alerce forest remains. These huge trees are similar in dimension to California redwoods, with some specimens 2,000 years old. The Pumalín Project was established in 1995 by Doug Tompkins, an American conservationist, who wanted to preserve some of the remaining virgin forest in Chile. Have a choice of walks in the park with naturalists in the forest, visit a hidden waterfall, or, for the energetic, climb along a rushing stream and look for forest birds along the trail. In the afternoon we head for the Golfo de Corcovado in search of marine wildlife, looking for Magellanic penguins, sooty shearwaters, dolphins, and with luck, whales. (B,L,D)
---
Today offers a choice of two interesting excursions. You may decide to take a morning excursion to a nearby, exceptionally beautiful privately owned park, Aiken del Sur. The park has well-maintained trails, set in evergreen forest with lovely waterfalls and lakes, including a 75-foot-high cascade. Bird possibilities include ringed kingfisher, woodpeckers, and a variety of forest birds. A Patagonian lamb barbecue (with vegetarian options) and entertainment by local musicians awaits at the end of the walk. Alternatively, take a full-day excursion to the Coyhaique National Reserve, driving into the pampas in the foothills of the Andes with views of the snow-covered peaks. Entering the reserve, drive through evergreen forest full of giant rhubarb and ferns to the transition zone of deciduous Nothofagus forest. The starting point for our hike is Laguna Verde, "Green Lake." Coyhaique National Reserve is home to three Chilean woodpecker species, passerines, diurnal and nocturnal predatory birds, and other animals such as pumas and foxes. In places, the forest is native and pristine, and in others we have the chance to appreciate the colonization process that is following fires of recent years. After our hike, we'll have a picnic lunch and we'll visit the city of Coyhaique, seeing its central plaza and the artisans' stalls, with excellent handicrafts. We'll then return to Chacabuco and National Geographic Explorer. (B,L,D)
---
This huge region of incredible scenery provides days of adventure for us. A vast area of snowcapped mountains, gigantic glaciers, thousands of islands covered with forests and other vegetation, lakes, soaring granite walls, and waterfalls, the archipelago is untouched by humans except for a few fishing villages which perch at "the end of the world." With a National Geographic photographer and a photo instructor by your side, you'll have boundless photo options. One day we'll explore the town of Tortel and its fjord. Glacier-fed rivers give the fjord a distinctive color. At Tortel, a system of boardwalks connects the houses and publics spaces of this charming town of about 500 inhabitants. We'll meet members of the community, which is fiercely determined to preserve its unique environment. One of the many highlights is the Pio XI Glacier, the longest glacier in the southern hemisphere outside of Antarctica, running some 60 miles from the Patagonia icefield to the fjord where it noisily calves off gigantic ice masses, at a rate of one every several minutes. It is 2 miles wide and rises nearly 200 feet above sea level. We explore by Zodiac, and may hike on land exposed by the receding glacier. These days offer us multiple opportunities to hike, and to use our Zodiacs, kayaks and undersea technology to explore the beautiful protected waters. En route to Puerto Natales, we transit the breathtaking 200-foot-wide White Narrows, a dogleg between unforgiving rock bluffs. (B,L,D)
---
From Puerto Natales, drive to monumental Torres del Paine National Park, a UNESCO Biosphere. The landscape is big, wide and sprawling, with razor-backed ridges, Andean condors, flamingos, and rheas. It's hard to imagine that the park could top the drive, but the Torres del Paine are an amazing sight, jagged granite mountains topped with a thick layer of dark slate. Discover one of the most spectacular and wildlife-rich areas in the Americas, covering 450,000 acres of glaciers, forests and grasslands, rivers and colorful lagoons. Chileans themselves dream of visiting this magnificent park. You'll be able to choose whether to hike or else to drive to some of the most scenic places in this great setting. (B,L,D)
---
Be on deck to look for condors and other wildlife on our way out of Puerto Natales as our ship transits the narrow sliver of water known as the Kirke Narrows—always a challenge to navigate because of the powerful currents that flow through its 650-foot-wide pinch point. Today and during the following days you'll be treated to the spectacular features of an active glaciated landscape with hanging valleys and tributary glaciers. This region was navigated by Ferdinand Magellan's expedition, and it took most of November 1520 for his ships to find a way through the maze of channels that lie between the continental mainland and Tierra del Fuego to the south. Among our many possibilities are exploring Estero las Montañas, with a chance to go for an adventurous walk to a lake through beautiful muskeg and forest, with cypress trees coated with many species of lichens; and Bahía Ainsworth in Seno Almirantazgo, where we may go out by Zodiac and kayak and look for elephant seals. (B,L,D)
---
Tierra del Fuego is one of Patagonia's crown jewels. We visit its newest and largest protected area: Karukinka Natural Park. Established in 2004 through a gift from Goldman Sachs, Karukinka is one of the largest donations ever made for conservation. We're thrilled to have special permission from the Wildlife Conservation Society to visit this private reserve, which spans 1,160 square miles and harbors endangered culpeo fox, Andean condors, and many other kinds of wildlife. We may explore Jackson Bay, backed by a skyline of rugged mountains, and look for wildlife including black-browed albatross that nest on one of the nearby small islands. We may walk a trail to a lovely waterfall, and look for elephant seals resting on not only the beach but also high in the grass meadows and even in the small river draining the valley inland. Look for the Andean condors, albatrosses, grebes, petrels, fulmars, shearwaters and many other birds that inhabit this otherworldly realm. (B,L,D)
---
Sail the Beagle Channel, named after HMS Beagle. The ship, commanded by Captain FitzRoy, surveyed the region between 1826 and 1830 and returned in 1833 with Charles Darwin on board. On seeing the area, Darwin wrote: "It is scarcely possible to imagine anything more beautiful than the beryl-like blue of these glaciers, and especially as contrasted with the dead white of the upper expanse of snow." We continue to Yendegaia, a stunning wilderness that covers 95,000 acres on Tierra del Fuego. This newly established national park was formerly a private reserve. It has some of the last remaining subantarctic beech forests, along with stunning mountains and wild rivers. There are walking trails for us to explore, amid some of the most sublime landscapes to be found anywhere. (B,L,D)
---
Today we visit Cape Horn, near the southernmost tip of the South American continent, named in 1616 for the Dutch town of Hoorn. These waters are famously difficult to navigate, and over the centuries have been the graveyard of many ships—which before the opening of the Panama Canal had to round the cape to sail between the Pacific and Atlantic. Of course, we'll use our modern equipment and decades of experience to explore safely. Weather permitting, we'll take our Zodiacs ashore and walk to the top of a hill for panoramic views and to see the memorial placed there in 1992, showing an albatross in silhouette. (B,L,D)
---
We have been given special permission to visit extraordinary Staten Island. National Geographic Explorer will be one of the only expedition ships ever allowed here, and you will be among the few people ever to set foot here. It's a place of superlatives, barely touched in recent decades and visited primarily by a few scientists and those who man the tiny naval observatory. The island was named by Dutch explorers in 1615. Its mountainous, forested landscapes and rugged fjords are beautiful, and we'll find a great deal of interest here. Our exact schedule will remain flexible to take best advantage of conditions. We'll see colonies of southern rockhopper and Magellanic penguins, many other water birds, and large assemblages of fur seals and sea lions. We'll also look for otters on our landings ashore; and we'll see the 1884 San Juan de Salvamento "lighthouse at the end of the world," which inspired Jules Verne's novel by the same name; the ruins of a penal colony; and perhaps an archaeological site occupied 1,500 years ago by Native Americans. There will be chances to walk in the southern beech forests. These days are bound to stand out as a unique chance to explore a very remote place. (B,L,D)
---
Disembark in Ushuaia, the southernmost city in the world. Take a charter flight to Buenos Aires and connect to your flight home. (B,L)
---
All day-by-day breakdowns are a sampling of the places we intend to visit, conditions permitting.
---
National Geographic Explorer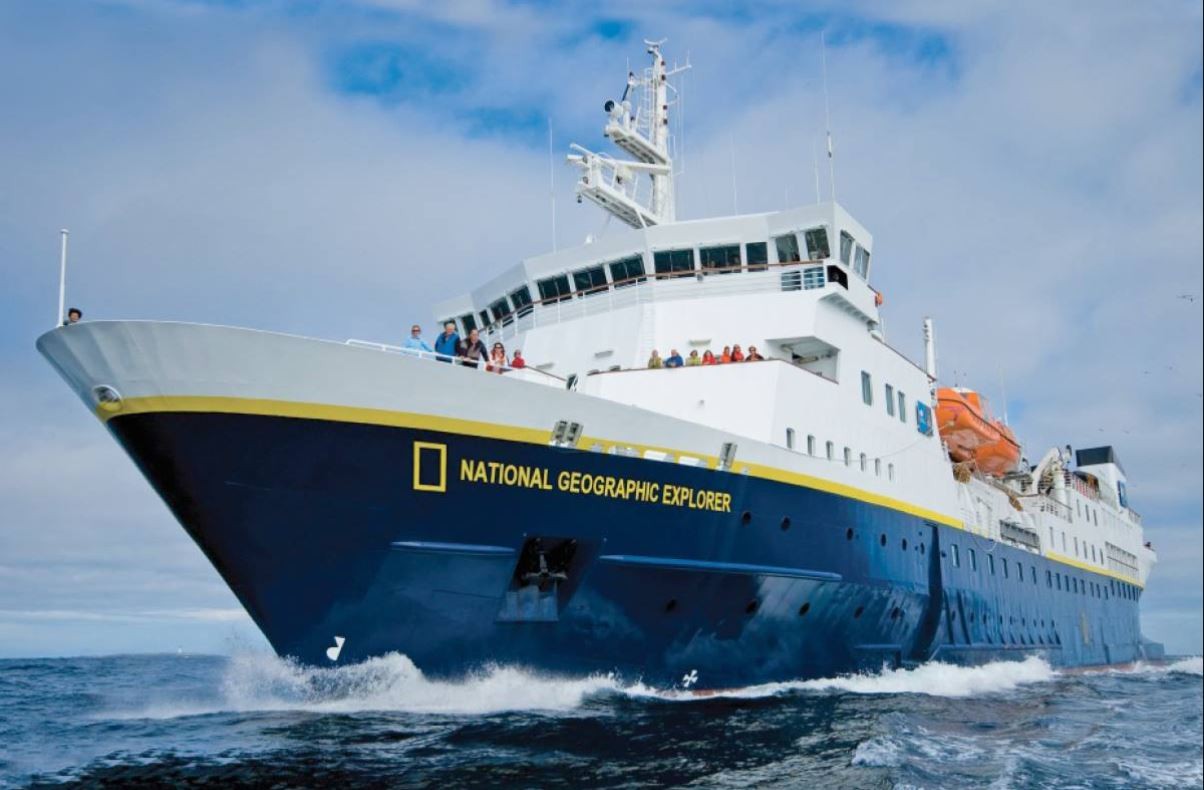 Vessel Type: Luxury Expedition Length: 108 meters Passenger Capacity: 148 (single & twin cabins) Built / Refurbished: 1982 / 2008 National Geographic Explorer is a state-of-the-art expedition ship. It is a fully stabilized, ice-class vessel, enabling it to navigate polar passages while providing exceptional comfort. It carries kayaks and a fleet of Zodiac landing craft. An Undersea Specialist operates a remotely operated vehicle (ROV) and sophisticated video equipment, extending access to the underwater world. Public areas: Bistro Bar; Chart Room; Restaurant; Global Gallery; Library, Lounge with full service bar and state-of-the-art facilities for films, slideshows and presentations; Mud Room with lockers for expedition gear, and Observation Lounge. Our "Open Bridge" provides guests an opportunity to meet our Officers and Captain and learn about navigation. Meals: Served in single seatings with unassigned tables for an informal atmosphere and easy mingling. Menu is international with local flair. Cabins: All cabins face outside with windows or portholes, private facilities and climate controls. Expedition Equipment: Zodiac landing craft, kayaks, Remotely Operated Vehicle (ROV), hydrophone, SplashCam, underwater video camera, Crow's Nest remote controlled camera, video microscope, snorkeling gear. Special Features: A full-time doctor, Undersea Specialist, LEX Photo Specialist and Video Chronicler, Internet Cafe and laundry. Wellness: The vessel is staffed by two Wellness Specialists and features a glass enclosed Fitness Center, outdoor stretching area, two LEXspa treatment rooms and Sauna.
Highlights
• See Patagonia's signature Torres del Paine National Park with naturalists and explore the Chilean fjords by Zodiac, kayak and on foot • Venture through wildlife reserves not easily accessible to the public, including Yendegaia and Karukinka Natural Parks in Tierra del Fuego • By special permission, be one of the few people ever to explore Isla de los Estados (Staten Island), located at the extreme end of South America • Transit the legendary Beagle Channel and take in the view of Cape Horn
Specials