Overview
Friends gather round the Piano Bar and join in singing a few favorites. And in the Tropical Bar, the bartender shakes a pitcher full of some delicious cooling concoction. Now, is there anything more relaxing than this? Clearly this is not a cruise ship in the ordinary sense. On Star Clippers, you will find that there are no rigid schedules. You are free to do as you wish with your days – and evenings. To entertain you, we bring local performers on board to give passengers an authentic taste of the local music and arts. So rather than enduring another Broadway revue, you can enjoy the conviviality of fellow shipmates while a live band plays tropical tunes from a real paradise. The Captain and crew are superb improvisers of the kind of light-hearted fun you'll only find on Star Clippers. The Captain's daily briefing on deck is wonderfully informative and a chance to hear some great story-telling as well. And there are other events and activities, such as knot tying and navigation classes, that have evolved from Star Clippers' sailing heritage. In fact, our passengers tell us that it's the easy-going informality of Star Clippers that makes a cruise with us so enjoyable.
Departures
Cruise Itinerary
The vivid colors of the San Blas Islands are undoubtedly the inspiration for the fanciful birds, fish and animals in brilliant reds, oranges, blues and greens that decorate the intricately appliquéd molas created by the indigenous Kuna women. Strung along the throat of Panama's dramatically beautiful Kuna Yala coast, the remoteness of these coral atolls protects an independent people who prize their communal culture with its rich oral history and artistic heritage.
---
Each Star Clippers ship offers a traditional and elegant way to see the world. Feel the wind fill the sails and gently carry you from one gorgeous destination to the next. During your time on board, you can choose to relax on a sun lounger or cool off in one of the pools on the top deck, while more adventurous passengers may enjoy the opportunity to climb the rigging or even have a go at steering the ship. Alternatively, you can wander the interior areas of the ship and discover relaxing lounges, a revitalising spa (Royal Clipper only) and a peaceful library.
---
Cartagena is a UNESCO World Heritage site. Located on the north coast of Colombia, Cartagena host a spectacular collection of buildings and massive fortifications dating from the early 1600's. The Fortresses were built to protect Cartagena from pirates. City highlights include Saint Philip of Barajas Fortresses and the Fort Ferdinand Fort.
---
Bon boni means welcome in the local dialect, Papiamento, and it's universally understood by all who visit little Aruba. Just 15 miles from Venezuela, this almost independent nation still has a ceremonial Dutch Governor General. Once it depended on oil for income, but tourism is the new king. No wonder Aruba's endless beaches and spectacular diving are too tempting to pass up.
---
The gabled houses and warehouses of Dutch colonial Willemstad march in tight formation along the entrance to St. Anna Bay, an incongruous vision of a tropical Amsterdam where the floating market sells mangos and papayas instead of tulips. In Curacao's interior cunucu, a few Dutch landhuis or farm owners still wrest a living by ranching on the near-desert soil.
---
Itineraries are subject to change.
---
Star Flyer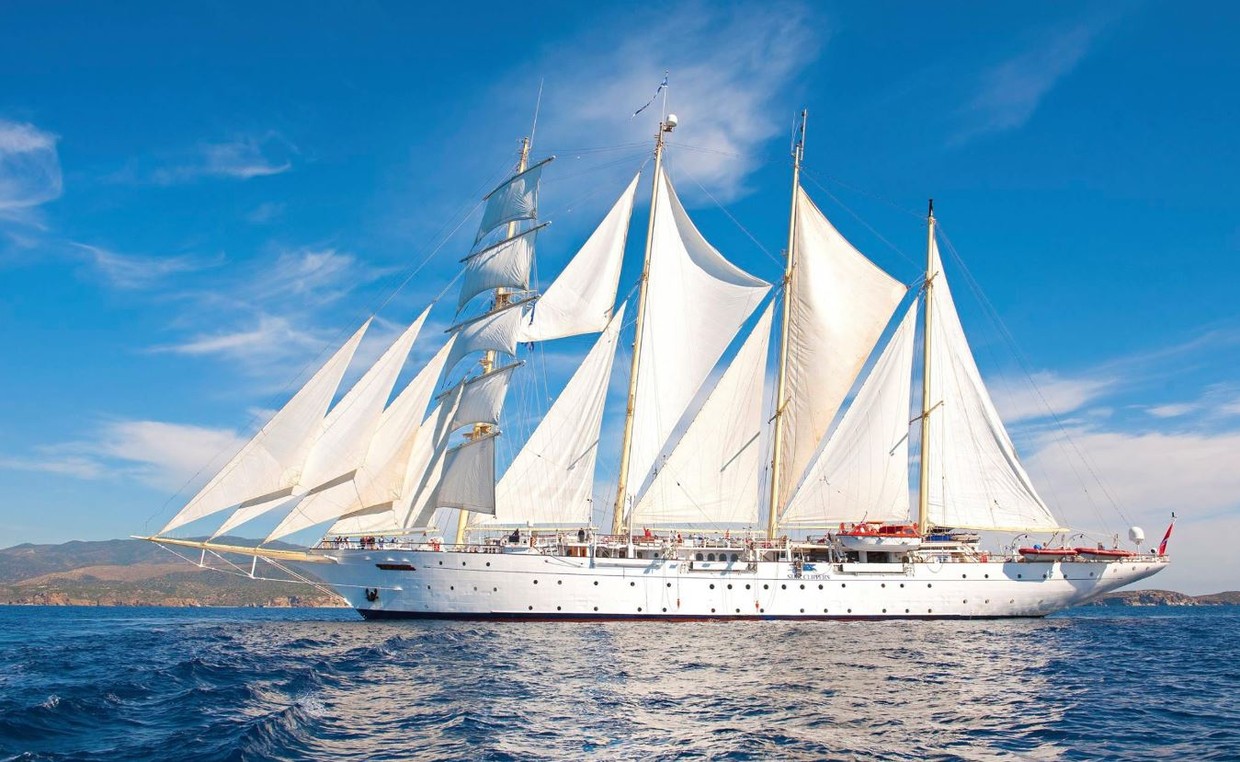 Vessel Type: Tall Ship Length: 109.7 m Passenger Capacity: 170 Star Flyer is a true clipper ship reflecting it's proud heritage in every inch of her polished brass and gleaming brightwork. Step aboard this unique vessel and discover a new age of sail, where the traditions of the past are happily married to the comforts and amenities of the present day. Star Flyer is a modern cruise ship in every way, created for luxury-loving passengers who also love the traditions and romance of the legendary era of sailing ships. Star Flyer is 360 feet long and carries just 170 guests in pampered comfort. Life aboard is blissfully relaxed, much like traveling on a private yacht. You'll never feel confined on Star Flyer. Ship offers spacious accommodations and expansive teak decks with ample space and not one, but two swimming pools. In fact, you'll find that this ship offers more outdoor space per passenger than most conventional cruise ships. The décor of Star Flyer is reminiscent of the grand age of sail. Antique prints and paintings of famous sailing ships please the eye, while teak and gleaming mahogany rails are richly reminiscent of Star Clippers' proud nautical heritage. All Star Clippers ships feature open-seating dining in an elegantly appointed dining room, our convivial indoor-outdoor Tropical Bar and Piano Bar, and an Edwardian style library where a Belle Époque fireplace glows with a warmth that reflects the friendliness and enthusiasm of Star Clippers' hospitable officers and crew.
Highlights
• Transit the Panama Canal • Visit Cartagena - a UNESCO World Heritage site • See St. Anna Bay, an incongruous vision of a tropical Amsterdam where the floating market sells mangos and papayas instead of tulips
Specials