Overview
The Yolita will take you on a four-night journey cruising through the Galápagos Islands that you won't soon forget. The southern and eastern islands play host to some of the best snorkelling spots within the Galápagos, including Islote Champion and Kicker Rock, where you will see some of the most diverse and impressive marine life around. Relax on the white-sand beaches with iguanas and sea lions, then head to Punta Pitt in search of three distinct species of booby. Don't forget to drop off a postcard at Post Office Bay before you go, too!
Cruise Itinerary
Arrive at anytime. Arrival transfer included.
---
Take an early flight to the Galápagos Islands. In the afternoon, visit North Seymour Island to look out for blue-footed boobies.
---
Morning landing at Cerro Brujo on San Cristóbal to observe sea lions, marine iguanas, and seabirds along the beach. Continue to the dramatic Kicker Rock in the afternoon to witness the steep vertical stone walls rising from the ocean and some of the best snorkelling in the Galápagos. In the afternoon, head to Isla Lobos known for its friendly sea lions.
---
Sail in to Gardner Bay, an excellent swimming and snorkelling site. Head to Punta Suarez on Española Island. The southernmost island in the Galápagos archipelago is home to several wildlife species, including masked and blue-footed boobies. A hike to the top of the cliff makes for spectacular photo opportunities.
---
Visit Santa Fe island for a chance to mingle with the iguanas and white tipped sharks. Continue to South Plaza for some great bird watching opportunities.
---
In the morning, visit the Charles Darwin Research Center and spend some time wandering through town before flying back to Quito. Enjoy an evening in Quito.
---
While it is our intention to adhere to the route described, there is a certain amount of flexibility built into the itinerary and on occasion it may be necessary, or desirable to make alterations.
---
Yolita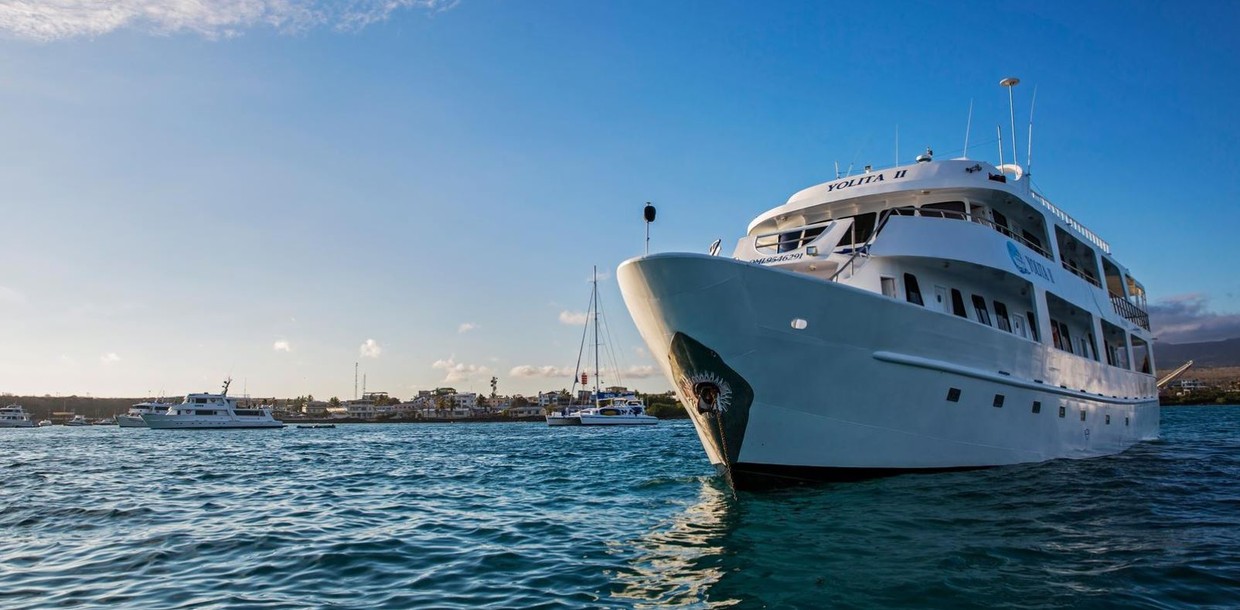 Vessel Type: Small Ship Passenger Capacity: 16 We know it's always tough to choose between comfort and a good price. That's why we have the Yolita, so you don't have to choose. You're welcome! This attractive 16-passenger ship boasts surprisingly spacious cabins for its size, and the large upper deck allows you to soak up as much of the Ecuadorian sun as you need. Cabins: Eight spacious cabins with queen or twin side-by-side beds all with en suite, A/C and large windows. Boat layout: Large aft porch with couches and lounge chairs. An elegant dining room, lounge and bar for meals and briefings. Observation deck boasts outstanding sightlines. Crew: With seven dedicated G Adventures crew members and one CEO Naturalist Guide familiar with the local flora and fauna and certified by the Galápagos National Park Service, there's always someone available to answer your questions. Amenities: Snorkelling equipment, wetsuits, and beach towels are included at no extra charge. Comprehensive breakfast and gourmet Ecuadorian and international cuisine is prepared fresh daily, and all meals on board are included.
Highlights
• Four nights cruising in the Galápagos Islands aboard the Yolita • Explore the beautiful southern and eastern islands to see iguanas and sea lions • Relax on the white sandy beaches • Visit some of the best snorkelling spots in the Galápagos
No Departures date available. Please contact us at travel@wildiaries.com for more information.