Overview
Cruise into the wild heart of Borneo in comfort One of the last remaining truly wild places on earth, Borneo offers travellers lush forests filled with endemic flora and fauna, untouched coastlines and labyrinthian caves. This 9-day cruise will reveal the cultural and natural treasures of rugged Borneo, skipping between the Malaysian and Bruneian sections of the island on the comfort of the M/S Panaroma II. Spot birds, butterflies and beasts in three different national parks, swim on an isolated island rich in folklore and taste local delicacies prepared with fresh caught seafood and bountiful produce along the way. Is this trip right for you? Peregrine's Adventure Cruising is all about the destination, with compact ships perfect for accessing out of the way ports and hidden spots. You'll be sailing on a yacht with 30–50 other people. The boat is spacious and comfortable, but there are fewer on board activities than you may be used to. Instead of a pool, we have the sea itself. Instead of a casino, we've got board games and a good book. There's also no formal dress code to worry about. Wi-Fi is available for a small charge. Our ship moves under engine power, rather than sailing, so all cabins will experience light engine noise when the ship is moving (and occasionally when we drop anchor). It's probably worth packing earplugs if you're a light sleeper. If you're concerned about nausea, there are seasickness tablets on-board. The ship will experience some roll and pitch in choppy conditions, however all of our ships come equipped with stabilisers to minimise movement. Most of our departures run in peak season, when the seas are calmer. Your crew will do all they can to minimise any discomfort. There are no lifts (elevators) on our ships, so you'll have to navigate a few steep flights of stairs between decks. Handrails are always available. Part of travelling with Peregrine means respecting local cultures and sensibilities. That way you get the most out of your interactions with local people and environments. Part of this trip is spent in Brunei, where modest dress is required for men and women, especially when visiting mosques and royal buildings. Sitting on the equator, it is also very humid. Packing lightweight tops that cover your shoulders and trousers over the knee is best.
Departures
Cruise Itinerary
Selamat datang! Welcome to Malaysia. Kuching means 'cat' in Malay and the city lives up to its animal namesake – dreamy, sophisticated and just a little bit wild. Meet your fellow travellers and leaders at a central hotel at 2.30 pm and transfer to the port where you will board your vessel, settle in and attend a welcome meeting and safety briefing. With the formalities out of the way, sit down to dinner with your fellow travellers on board and get to know each other. This evening is spent at port. Special Information It is very important that you are at the meeting point on time as we will be collecting insurance details and at this time. Once on board the vessel you will be taken through a safety briefing. If you are going to be late please let your travel agent or a Peregrine representative know. An airport transfer is included if you are arriving today, or if you are arriving earlier and have booked pre-voyage accommodation with Peregrine.
---
In the morning head to Semenggoh Orangutan Sanctuary – a government-funded rehabilitation centre, by private minivan (approx. 1 hour). The centre was set up to help reintroduce these wonderful creatures back into the wild after a life of domestication or having been orphaned. Head into the jungle via a walkway, where from a viewing platform you can watch and photograph the orangutans as they swing into view and eat the supplementary diet of bananas and milk that is laid out for them twice a day. Take some time to savour the special moments in these animals' company. Human contact must be kept to a minimum and it's essential that you follow your leader's instructions. Next, drive to Sarawak Cultural Center (approx. 1-1.5 hours). Watch a lively dance performance and learn about the traditions and histories of the diverse ethnic groups of Sarawak. Get a taste of how the various cultures have influenced the cuisine with lunch at the Cultural Village. Return to Kuching (approx. 45 mins) and enjoy a free afternoon and evening to explore at your leisure. A delicious dinner should not be hard to come by, as Kuching is overflowing with options. Perhaps ask your leader where to seek out the best bowl of kolo mee, a classic dry noodle dish. This evening, you may wish to join an optional sunset cruise along the Sarawak River to enjoy the city skyline, at your own expense.
---
Set sail for Pulau Lakei, a quiet island where a small stretch of sandy beach is backed by lush jungle. Aside from its beauty, this small island is also rich in local legends about a religious hermit called Hajji Ibrahim who is alleged to have lived on the island hundreds of years ago. Cool off with a swim on the beach, and if time allows enjoy a hike to one of the islands clifftops for views of the South China Sea. Return to the Panorama II for lunch and a leisurely afternoon of sailing north towards Mukah.
---
Wake up in Mukah, also known as the Melanau Heartland. Disembark the Panorama II and embark on a tour of a local village, where a local cook will show you how to craft the traditional Melanau fare umai, a raw fish dish you may have already fallen in love with. Enjoy lunch at a local guesthouse and try out some more Mukah favourites. Sago, a starch that comes from palm trees, is bound to make an appearance. Reboard the vessel and spend the afternoon and evening at sea.
---
Rise and disembark for a 1-hour drive to Lambir Hills National Park. This waterfall-rich forest houses hundreds of bird species, wild pigs, monkeys and more among the tangle of moist jungle. Explore one of the trails with a short hike to a waterfall where there will be time for an invigorating dip in natural waters. Enjoy lunch at a local restaurant then return to Miri, stopping en route at Canada Hill for panoramic views. Tonight, is free for you to explore Miri further or relax on board the Panorama II. If you do decide to take on the town, the city offers a diverse range of food options for dinner, from chicken and rice to local variations of laksa.
---
Travel to Bandar Seri Begawan in Brunei and enjoy a half-day city tour. Visit the Royal Regalia Museum, which is dedicated to the current Sultan of Brunei Hassanal Bolkiah. You'll also visit the opulent Omar Ali Saifuddien Mosque. With its gold domes and palatial feel, it is widely considered one of the most arresting mosques in Asia. After sightseeing among the splendour of the city, cruise to a more low-key destination – a water village where you will enjoy tea in a local home. Return to the Panorama II for lunch and enjoy an afternoon at your leisure on board or in the city. In the late afternoon, you can choose whether to join your leader on an optional trip to the Gadong Night Market to purchase some local dishes for dinner. Alternatively, seek out your own culinary delights.
---
Spend the day in the lush environs of Ulu Tempurung National Park, a virgin rainforest of the most spectacular order. Take a boat trip through the tributaries that snake through the forest, keeping an eye out for colourful butterflies, gibbons and more. You can choose how to spend the rest of your time in the park. Active types may want to try an optional canopy walk. Just keep in mind that in order to access the bridges in the canopy you will need to climb up more than 700 steps. Those who brave the heights will be rewarded with views of untouched rainforest as far as the eye can see. Vertigo sufferers (or those who prefer to relax) may wish to unwind at the Ulu Ulu Resort or take a short hike to a mini waterfall. This evening enjoy a Captain's dinner in Bandar and then sail overnight to Pulau Tiga National Park.
---
Cruise into Pulai Tiga National Park this morning and start your day with swimming and snorkelling in clear waters. You're sure to spot different varieties of tropical fish darting among colourful coral. Next, rejuvenate with a wallow in a volcanic mud pool which is said to help skin conditions. Enjoy a barbecue lunch on the deck of the Panorama II, soaking up views of the incredible coast. Spend the afternoon and evening at your leisure. You can either continue to explore, relax on the beach or enjoy a drink on the deck with unrivalled views of paradise. Set sail for Kota Kinabalu late in the evening.
---
Enjoy a final breakfast on board, then bid farewell to your crew before being transferred to a central hotel in Kota Kinabalu where your tour will end on arrival. This modern metropolis has rebounded from multiple bombings during WWII and boasts several interesting museums to explore, markets to browse and beaches to relax on. If you plan to spend more time in Kota Kinabalu, you can speak to your Peregrine representative about booking further accommodation.
---
Itineraries are subject to change.
---
Panorama II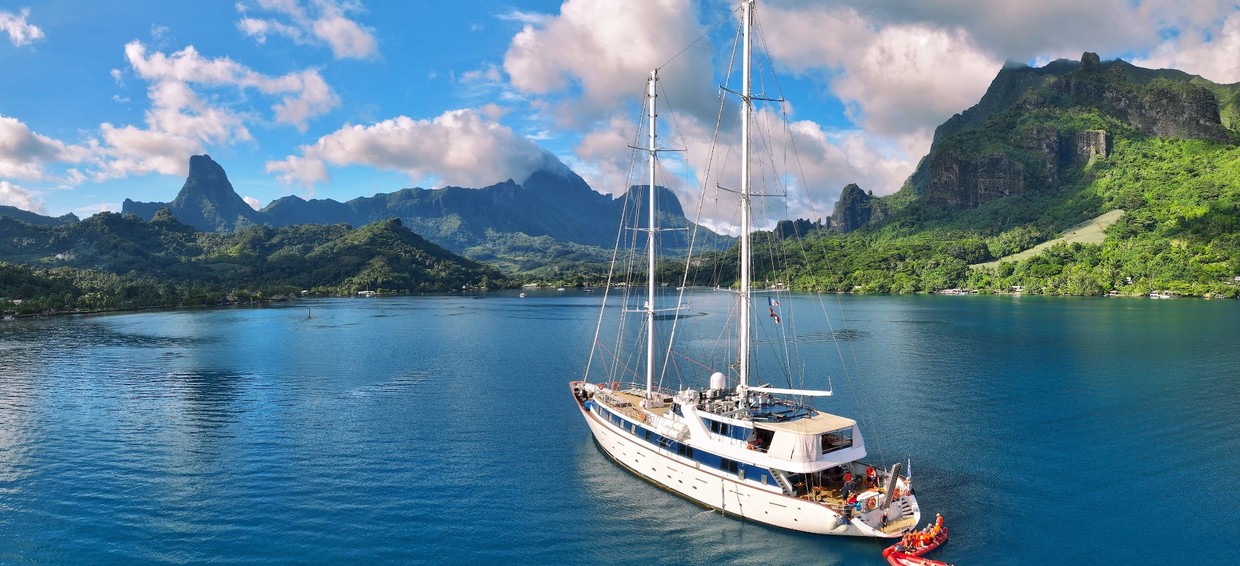 Vessel Type: Sail Cruiser Length: 50 metres Passenger Capacity: 49 Built / refurbished: 1993 / 2008 / 2012 / 2015 Imagine a place far from home that feels just like home, where the borders are delineated by the golden shores of the sea; and home is wherever the anchors drop. Imagine 164 feet of comfort, sleek beauty, and safety classified by the latest International "Safety of Life at Sea" (SOLAS) standards. Imagine your floating home on board the sleek, classic design Mega Yacht as she spreads her white sails through the seas under the name PANORAMA II, waving her Greek flag through the wind. Discover the world by sea at 10 knots per hour, in her un-rushed pace, one island or seashore at a time on board the ultimate 3 masted motor sailer cruiser. Panorama loves to seduce her select 49 guests with her classic lines and wood paneled lounges redefining what yachting was meant to be. A spacious lounge with ample space, dining areas decorated with warm colors, rich library and two decks for sunbathing, shaded areas and outdoor bar and loungers are just some of the elements that define her essence. 360° views of unobstructed ocean are your eyes' canvas painted with ocean blue and deep green mountains. Embrace freedom as the Panorama II sets her white sails seduced by the clear winds of the sea. Mingle with likeminded travelers in our public areas, enjoy a moment to yourself in our ample deck space, or retreat to one of our 25 ocean view cabin-sanctuaries all offering windows or portholes connecting you with mother nature's wonders. Panorama II's experienced crew of 18 is trained with hospitality at heart to pamper her guests and guarantee the ultimate home away from home experience. Serenity is a state of mind; on board Variety. Home at Sea Single seating dining Indoor & Outdoor Lounge - Bar, Indoor & Outodoor Restaurant, Audiovisual in Lounge, Mini library, Beach Towels, Snorkeling equipment, Kayak, Board Games, Swimming Platform, Wi-Fi Comfort Zone Windows: Upper & Main deck cabins, Portholes: lower deck cabins, Triple Occupancy cabins: Category B, Flat-Screen TV, Mini Safe, Mini Fridge Individually controlled A/C, En suite bathroom with shower, Hairdryers, Telephone for internal use, Central music
Highlights
• Look for strange and vulnerable wildlife in the thickets of evergreen forests, from exploding ants to gibbons to wild boar. • See two different sides of Bandar Sei Begawan in Brunei with a visit to the opulent Omar Ali Saifuddien Mosque followed by tea with a local in a sleepy water village. • Learn how to craft the perfect plate umai (marinated raw fish, chilli, lime juice and shallots) with a local Melanau cook in Mukah. • Choose to see the virgin rainforest of Ulu Tempurung National Park from the perspective of the birds during an optional canopy walk. • Wash off the humidity by soaking in both the crystal-clear waters of the ocean and the mineral-rich volcanic mud pools of Pulau Tiga.
No Departures date available. Please contact us at travel@wildiaries.com for more information.