Overview
An epic, 21-day adventure across the depths of the Drake Passage awaits. The destination? The awe-inspiring Antarctic Peninsula, South Georgia and the Falkland Islands. Discover just how impressive Shackleton's journey was and become immersed in wildlife encounters along the way. Visit penguin rookeries, watch whales breach and scout for seals along the shoreline, with a team of onboard polar experts leading Zodiac excursions through the ice-filled bays and on land. Days at sea offer comfortable living quarters and services catering for health and wellness, as well as a program of lectures and screenings to enhance your knowledge and appreciation of the area, adding to what really is a once-in-a-lifetime trip to discover the last frontier. Is this trip right for you? Although our ice-strengthened ships are big and sturdy, the Antarctic waters can be unpredictable and rough. Some people may experience seasickness, especially through the Drake Passage and other open water crossings, so please be prepared with medications to combat this – we'd hate for you to miss a single minute of this journey. There is also a doctor on board should you need further assistance. Believe it or not, temperatures in the Antarctic can be freezing. And yet it can get surprisingly warm when the sun comes out, for instance, or with increased physical activity. It's best to dress in layers when you journey outside and we'll provide you with waterproof boots that are sturdy, warm and highly fashionable (in Antarctica, at least). Please see the trip notes for information about what to bring. Depending on the weather, you'll be zipping around in a Zodiac boat quite regularly to explore the area and search for wildlife. It can get very cold and wet on the Zodiac, so make sure you dress appropriately and keep your camera safe and dry. Being cold and miserable is one thing, having no photos to show for it is another. Sturdy sea legs are needed for wet and dry landings from the boat, as well as on steep terrain, snow and other uneven surfaces. The Ocean Endeavour has a lift, but you'll need to take the stairs to get to the gangway and some other parts of the ship that the lift does not provide access to. The weather plays a pivotal part in this adventure, and although there's an itinerary in place, there are no guarantees that you'll be able to do everything that is planned for. A level of flexibility and openness to embracing the unexpected are important in expedition travel, especially in such a remote area. There are nearly 200 recognised sites in the Antarctic Peninsula and South Shetlands; the places mentioned in the itinerary may need to be changed to others (which are equally as interesting). We may also be confined to the ship during rough weather. The ship's library and educational lectures are ideal ways to stay entertained, while the wellness spa, saunas, gym and yoga classes will keep you fresh for when the weather clears.
Departures
Cruise Itinerary
Welcome to the port city of Ushuaia for the start of your Antarctic adventure. Upon arrival you will be transferred to the hotel and settle in before meeting your fellow travellers. If you're arriving earlier there are plenty of activities to choose from. Visit Tierra del Fuego National Park on a full day's adventure, or perhaps take a walk around town, visiting the waterfront overlooking the Beagle Channel. The Museo Maritimo (Maritime Museum which is housed in an old prison) sets the scene of the city's history or enjoy a delectable combination of Argentinean wine and steak at a local restaurant. Meals Included There are no meals included on this day.
---
You will have some time this morning to shop for any last-minute items and take a final look around town before departing in the afternoon. The main street of Avenida San Martin (San Martin Avenue), in downtown Ushuaia, has plenty of stores stocked with clothing, Argentinian crafts and a selection of wines and food products. This afternoon, you'll be transferred from your hotel to the pier where you'll board your vessel and new home for the duration of your Antarctic exploration. Here you'll meet your expert crew and take a tour of the amenities and services available on the ship. In the evening, the ship sets off through the Beagle Channel and we bid farewell to the southernmost tip of South America as we make our way towards the crossing of the legendary Drake Passage. Join your shipmates and meet the polar crew this evening for drinks during the Captain's Welcome, then sit down to dinner in the evening. Meals Included Breakfast Dinner
---
The infamous Drake Passage has a reputation for rough seas, but it's also a rite of passage and part of the adventure of Antarctica. Over the next two days get to know your team of polar experts as they share in-depth knowledge into the Great White Continent, its wildlife, history and geology so you can gain a greater understanding and be prepared for exploration off board. Depending on weather conditions, make your way out to the deck for the chance to spot Antarctic wildlife such as whales, dolphins or perhaps albatross and other seabirds such as prions and petrels. The polar crew is familiar with the wildlife that inhabit these parts and are there to help point out any approaching marine life. Meals Included Breakfast (2) Lunch (2) Dinner (2)
---
Set your eyes on the incredible terrain of the world's most southern land. Get ready for onshore exploration over the next four days, stepping off the ship and into a Zodiac and taking your first steps on the Antarctic Peninsula. There are a number of potential landing sites and the crew will make a decision on which will be visited based on conditions. A list of these sites can be found at https://www.peregrineadventures.com/en-au/antarctica/landing-sites. Enjoy Zodiac rides to get closer to marine life such as whales and seals; onshore exploration at penguin rookeries; and optional activities such as snowshoeing, kayaking and camping overnight (these must be booked before departure). Wildlife encounters on the Antarctic Peninsula are likely to include Weddell, crabeater and leopard seals; gentoo, Adelie and chinstrap penguins; and elephant seals. If the weather conditions make an excursion unsafe, the crew will arrange for alternative activities on the ship – such as wildlife presentations, documentary screenings or you can make the most of the wellness spa, heated pool and sauna, library and gym on board. Meals Included Breakfast (4) Lunch (4) Dinner (4)
---
Retracing Shackleton's path to South Georgia, look out for seabirds, whales and other wildlife. Listen to sessions from our onboard Antarctic experts and take in the shapes of the seascape. The ship will head towards Elephant Island where, weather permitting, we will attempt to make a landing. Elephant Island is where Sir Ernest Shackleton left 24 of his men after being shipwrecked in 1917, then embarked on one of the greatest survival stories of all time on a mission to South Georgia. Meals Included Breakfast Lunch Dinner
---
Continuing the journey following the route of Shackleton across the ocean to South Georgia, life on board is a very different experience to that of the explorers at the start of the twentieth century. The islands of South Georgia, located in the southern Atlantic Ocean, were described by Shackleton's crew as a 'piece of the Alps transplanted in the Atlantic – with peaks, glaciers and frozen lakes on which man has yet to venture'. Meals Included Breakfast (2) Lunch (2) Dinner (2)
---
Over the next few days, explore the island of South Georgia, once the homestead of whalers and lonely explorers but now a protected area with dedicated Antarctic research teams. Home to hundreds of thousands of breeding pairs of king penguin at St Andrew's Bay, the largest king penguin rookery on South Georgia – this is a wildlife spectacle to behold. See enormous quantities of sea birds, fur and elephant seal pups and discover a wealth of history. Spend time at the old whaling settlement of Grytviken and pay a visit to the grave of the legend himself – Sir Ernest Shackleton. The island has been a British Overseas Territory since 1775 and, at 3,755 square kilometres (1450 square miles), it's the largest island in the territory. Meals Included Breakfast (4) Lunch (4) Dinner (4)
---
Leave South Georgia and chart a course for the Falkland Islands. From the deck, scan the horizon for seabirds and other wildlife. Prepare for the Falklands by attending the onboard presentation highlighting the dramatic history and wildlife encounters that await. Meals Included Breakfast (2) Lunch (2) Dinner (2)
---
The two main islands (East Falkland and West Falkland) have much to offer and provide a rare opportunity to witness the biological diversity, extraordinary scenery and history of the southern islands. The Falklands have the largest black-browed albatross colony in the world and five species of penguin breed on the islands (gentoo, king, macaroni, magellanic and rockhopper). Here we will explore the capital of Port Stanley, located on East Falkland Island, offering an opportunity to meet the locals whose colourful houses provide contrast to the icy backdrop. In addition, depending on time and conditions, we will endeavour to visit the islands' penguin breeding grounds. Meals Included Breakfast (2) Lunch (2) Dinner (2)
---
Cruise towards Ushuaia with time to reflect on the spectacular scenery and prolific wildlife you've encountered during the voyage, along with the endeavours of legendary explorers like Shackleton. Meals Included Breakfast Lunch Dinner
---
As the journey comes to an end, disembark in Ushuaia where you'll be transferred to the airport for your flight home. Meals Included Breakfast
---
Itineraries are subject to change.
---
Ocean Endeavour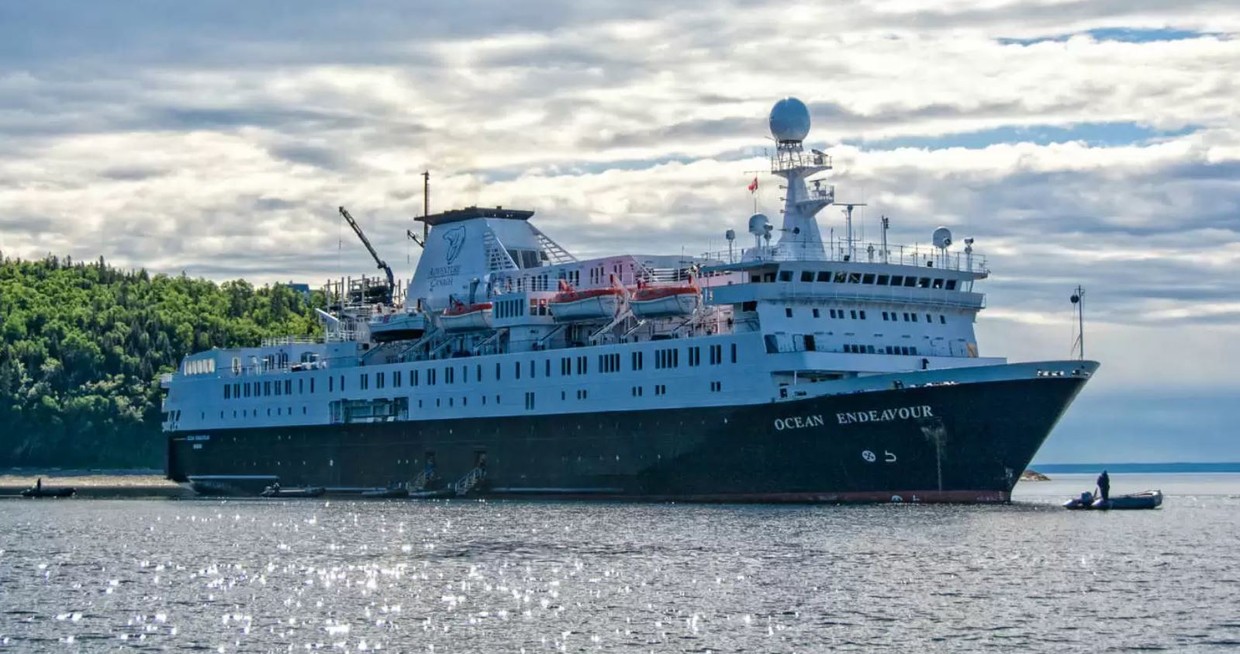 Vessel Type: Expedition Length: 137m Passenger Capacity: 199 Built: 1982 - refurbished 2001, 2004, 2010, 2015, 2016, 2018 Ocean Endeavour is a comfortable, well-appointed small expedition ship expertly engineered to explore the Polar Regions. The ship has an ice-strengthened hull, Zodiacs for exploration and remote landings, and advanced navigation equipment. The newly-refurbished vessel offers a superb guest experience with an expansive choice of cabin categories, large cabins and common areas, a sundeck and observation area, plenty of deck space for polar landscape viewing, and lounges for learning and reflection. The ship's interiors have a contemporary aesthetic that provides a bright and spacious feel throughout. Endeavour is also the only polar adventure ship in Antarctica focused on health and wellness , and offers a contemporary approach to cuisine and newly-designed health and fitness features. Facilities include a spa serviced by organic spa provider VOYA, His & Hers saunas, a salt water pool, a gym, and a juice and smoothie bar. Complimentary activities include yoga and stretching classes, an exclusive Polar Photography program, the Scientists in Residence program, and more adventure activities than any other Quark vessel. The ship also has a polar library, and a Polar Boutique for gifts and any needed gear. Features of the Ocean Endeavour VOYA spa treatments and beauty products, Choice of 13 cabin categories, Bright, spacious cabins and common areas, Plenty of deck space for observation, Lounge with expansive views, Quiet zone for contemplation, Newly-refurbished restaurant, Contemporary dining with complimentary wine with dinner, Juice and smoothie bar, Lecture theater, Polar library, Polar boutique, Health and Wellness, Spa treatments and beauty products by spa provider VOYA - Organic Beauty From The Sea, Spa menu for face, body, hair and nails, including the exclusive Quark Explorer's treatment, and signature VOYA hand and foot rituals, Yoga and stretching classes, His & Hers saunas, gym, and heated salt water pool Full range of adventure activities including: kayaking, camping, mountaineering, cross-country skiing, stand-up paddleboarding, Zodiac cruising, shore landings and hiking/ walking. Deck plan varies for the trips to Antarctica
Highlights
• Retrace the route of the legendary Sir Ernest Shackleton, who led three expeditions to the Antarctic region, and uncover the historical events of his journey. • Freezing is great but freedom is better. Customise your trip with a wide range of optional activities on top of regular Zodiac excursions. Explore the water by kayak, sign up for a photography masterclass, rejuvenate with some onboard yoga and a massage, take a refreshing polar plunge or camp overnight like a true polar explorer. • Whereas most polar expeditions of this kind have a crew-to-passenger ratio of ten, fifteen or twenty to one, Intrepid expeditions on the Ocean Endeavour have an expedition crew member for every 8 passengers for a greater personal touch. • Our experienced leaders have made hundreds of polar voyages between them. They're experts in marine biology, glaciology and Antarctic history, and they'll share their knowledge throughout the journey during a comprehensive lecture program. • Rest assured that footprints are all you'll leave behind. Your Antarctica expedition is carbon offset, and we serve only sustainably sourced seafood, avoid single-use plastics and use biodegradable and phosphate-free cleaning products. • Travelling solo? This is your perfect Antarctic adventure, with single cabins at the same price as some twins.
No Departures date available. Please contact us at travel@wildiaries.com for more information.